Family research – Finanz- und Hofkammerarchiv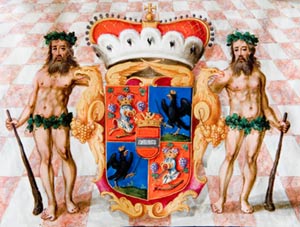 Governmental authorities for financial and economic administration (from around 1500–1918) – Kameralherrschaftsverwaltung (estates supervised by the financial administration of the sovereign) – Oberster Rechnungshof (Supreme Court of Audit) – Finanzprokuratur (Office of the State Attorneys at the Ministry of Finance) – Finanzlandesdirektion für Niederösterreich (Regional Fiscal Directorate for Lower Austria).
Directly person-related archival holdings, e.g. "Gedenkbücher" and "Zahlamtsbücher" (records of gratuities to civil servants, artists etc.); "Familienakten" (family files); autographs; Kartei der Banater Immigranten (register of immigrants from the Banat region); legacies.
Further literature:
Wilhelm, Franz/Kallbrunner, Josef: Quellen zur deutschen Siedlungsgeschichte in Südosteuropa. München 1932–1936; Kallbrunner, Josef: Quellen zur Geschichte deutscher Siedlung und deutscher Geltung in Galizien seit 1772 in den Wiener Archiven. In: Die Burg. Vierteljahresschrift des Instituts für deutsche Ostarbeit in Krakau 4 (1943), S. 197 bis 204.