Haus-, Hof- und Staatsarchiv – Information in brief
The Haus-, Hof- und Staatsarchiv was founded by Maria Theresia (1740 to 1780) in 1749 as a central archive of the House of Habsburg. By establishing a well-structured repository of acts and charters that brought together in Vienna the documents of the sovereigns and the state which had hitherto been dispersed over several locations, she sought to make sure that legal titles and rulers' rights due to the dynasty would from then on be within easy reach, if needed.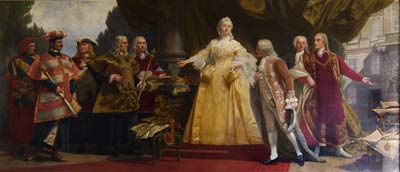 The holdings of the Haus-, Hof- und Staatsarchiv are broken down into 11 record groups focusing on:
the history of the House of Habsburg
the work of the supreme court offices and the imperial cabinet
the diplomacy and foreign policy of the dual monarchy
the supreme administration and judicature of the Holy Roman Empire of the German Nation, in which the Habsburgs ruled as emperors in almost unbroken succession for several centuries until the union of territories was dissolved in 1806.
The Haus-, Hof- und Staatsarchiv also includes archives of dominion and families deposited there, estates, a collection of manuscripts, a collection of seal castings and imprints as well as a collection of maps and plans.
However, the highlight among the "collections" of the archival department is doubtlessly the collection of acts and charters with a wide variety of provenances.
The Haus-, Hof- und Staatsarchiv department is housed in a functional building erected between 1899 and 1902 as an archives building in Vienna's Minoritenplatz square; it comprises 16 000 linear metres of shelves with 130 000 account books and filing boxes, 75 000 acts and charters, 15 000 maps and plans, as well as about 3 000 manuscripts.
The oldest item is an act signed by Louis the Pious (814 to 840) in 816. The holdings end in the year 1918. Thus, the Haus-, Hof- und Staatsarchiv is one of the "historical" departments of the Austrian State Archives which will no longer grow as no records will be transferred from the Austrian federal ministries.
The Haus-, Hof- und Staatsarchiv is of enormous importance for international research because of the wide geographical range it covers and because of the great diversity of its holdings. Due to the territorial reach of the Habsburgs from the 15th century onwards and the literally world-wide relations of the dynasty, the archival holdings practically cover all continents.
Apart from the "classic" approach via the history of diplomacy and politics, the archives also offers an abundance of materials oriented along the lines of sociology and cultural studies.