Restoration workshop
Historical development
The restoration workshops, which used to be located at the departments of the Haus-, Hof- und Staatsarchiv, Allgemeines Verwaltungsarchiv, Kriegsarchiv and Finanz- und Hofkammerarchiv, were initially set up mainly for bookbinding work.
It was not until the mid-1960s that the restoration workshop of the Kriegsarchiv began restoring archival materials on a larger scale, especially repairing paper damage. In cooperation with the Austrian National Library, it was possible to further develop appropriate special techniques.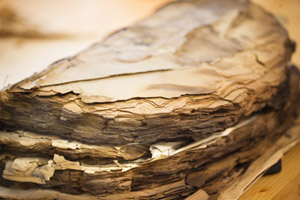 In 1980, the restoration workshops were combined into an organizational unit reporting directly to the Directorate General and, in 1987, were relocated and concentrated in state-of-the-art premises in the central archive building in Vienna's third district.
The restoration department of the Austrian State Archives has traditionally been a sought-after training center for prospective conservators.
Tasks
The main areas of work are the restoration of papers and parchments, seals and bound objects, and the control of mold infestation. In addition to the usual technical instruments, a mycological laboratory is therefore also available. Around 12,000 individual leaves are restored each year. In addition, a three-digit number of bound objects and a fluctuating number of seals are restored.
Subject to available capacities, private commissions are also accepted - at market prices and after clarification of any risks involved.