Restoration workshop
Historical development
Formerly, the departments Haus-, Hof- und Staatsarchiv, Allgemeines Verwaltungsarchiv, Kriegsarchiv and Finanz- und Hofkammerarchiv had their own local restoration workshops which were primarily equipped for bookbinding work.
As late as in the mid-1960's the restoration workshop of the Kriegsarchiv started restoring archival records extensively, in particular focusing on the repair of paper damage. Appropriate special techniques were developed in cooperation with the Austrian National Library.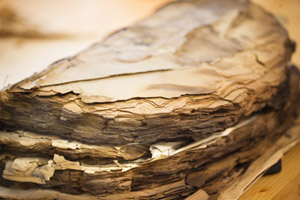 In 1980 the restoration workshops were merged in an organisational unit directly subordinate to the General Directorate and as from 1987 they were relocated to modern premises in the central archives building in the third district of Vienna.
By tradition, the restoration workshop of the Austrian State Archives is very much sought after as a training location for budding restorers.
Tasks
The workshop focuses on restoring paper and parchment, seals and bound objects and on fighting mould. In addition to the customary technical equipment, the workshop also has a mycological laboratory. The nine employees of the workshop restore about 12 000 individual sheets per year as well as a three-digit figure of bound objects and a fluctuating number of seals.
If capacities are available, the restoration workshop also accepts private commissions at market rates and after clarifying the risk involved.
Contact
Alexander Aichinger
Phone: +43 1 795 40-640603
Fax: +43 1 795 40-109
Email: gdpost@oesta.gv.at